The Ren and Stimpy Show is an American/Canadian animated television series created by Canadian animator John Kricfalusi. The series follows the adventures of the eponymous characters: Ren Höek, a neurotic "asthma-hound" chihuahua, and Stimpson J. Cat, — a simpleminded manx cat. They wander around in nonsensical adventures in a style reminiscent of the Golden Age of American animation.
A series from the children's cable network Nickelodeon, The Ren and Stimpy Show had a reputation for subversive humor. The controversy mostly stemmed from imagery and cartoon violence. In 1992, Nickelodeon fired Kricfalusi and production moved from Kricfalusi's Spümcø studios to Games Animation, where it stayed until its cancellation in 1997. Re-runs currently air on Nicktoons Network.
Ren Höek (first appearance: "Big House Blues", 1990) is a Chihuahua dog. Martin "Dr. Toon" Goodman of Animation World Magazine described Ren as "scrawny," "dyspeptic," and "violently psychotic."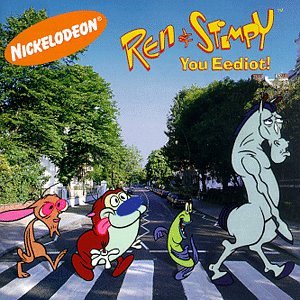 Kricfalusi originally voiced Ren, using what he described as "a bad imitation of Peter Lorre" 53. When Nickelodeon fired Kricfalusi, Billy West, already the voice of Stimpy, took the role using a combination of Burl Ives, Kirk Douglas, and a slight "south of the border accent" for the rest of the Nickelodeon run. Kricfalusi returned to the voice for the Nickelodeon series and Ren & Stimpy Adult Party Cartoon on Spike TV and Adult Swim.
Stimpson "Stimpy" J. Cat (first appearance: "Big House Blues", 1990) is a fat, untailed, red and white Manx cat with a blue nose, purple eyelids, human-style buttocks, and flat feet. Martin "Dr. Toon" Goodman of Animation World Magazine described Stimpy as "obese," and "brain-damaged." West voiced Stimpy for the Spümcø and Games Animation episodes, basing the voice on an "amped-up" Larry Fine. Eric Bauza portrayed the character in Adult Party Cartoon.
The show features a host of supporting characters, both recurring and single episode appearances, although Ren and Stimpy are the only characters to appear in every episode. Some of the supporting characters factor directly into the storyline (such as George Liquor) while others make brief cameos. Other characters, such as Mr. Horse, are exclusively cameo-based, appearing in many episodes in bits that have little bearing on the plot.
In a 1993 interview, Bill Wray stated that he believes that Kricfalusi created the Ren and Stimpy characters around 15 years prior, for Kricfalusi's personal amusement during his years in Sheridan College in Canada. According to commentary in the DVD box set of the show's first two seasons, Ren was inspired by a 1940s-era photograph of a chihuahua with its owner while Stimpy was based on a "stupid cat" character he had created in the aforementioned time frame. Wray said that he had initially "forgotten about" the characters. When Nickelodeon requested new series, Kricfalusi assembled a presentation called "Our Gang", similar to a children's show with a live action host presenting various cartoons. Each cartoon parodied a genre, and Ren and Stimpy parodied the "cat and dog" genre. Vanessa Coffey, the producer of the show, said that she did not like the general idea but that she liked Ren and Stimpy.(Wikipedia)
Ren and Stimpy Wallpaper
Ren and Stimpy Picture